This article is for events that have registration with payment plus fundraising. Events that are fundraising only have a different set of instructions.
Most events allow fundraising groups. Groups can be teams or families or other types like a school class.
The event manager has the ability to set whether email addresses are required for group members. This is important because if email is required you must have an email address per member.
As group captain you have the ability to add members as well as edit rights on the fundraising page..
When you register for the event you may add as many members as you wish before you check out.
However if you have already checked out and want to now come back and add members there are two ways to do this:
OPTION 1 - FROM MYACCOUNT
The easiest way is to login to your mycause account. 
Navigate to the group fundraising page and select the option beneath that reads " manage your team".
This will open a window that allows you to change the group name, and add and remove members. You can also print a quick report of the members' activity.
OPTION 2 - FROM THE FUNDRAISING PAGE
Open the group fundraising page and click the button on the right hand side that reads 'Join this team'.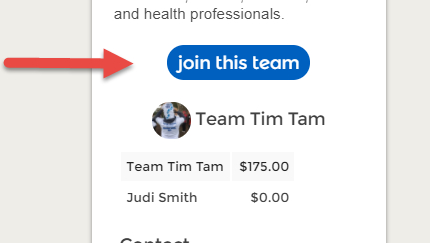 This will take you into the event sign up flow where you may add another member.
If the event does not require an email address then the field is optional. If the event does require an email address you must add the email of the new participant.
You will be asked to pay for any participant you add unless the group has been pre paid.
The new participant will receive  a welcome email if you have added their email address.