Some events allow a 'virtual" component.This means you can log your fitness activity from your external app or device and add it to your Fundraising Page and get sponsored for your charity.
STEP 1 - LINK FITBIT TO YOUR MYCAUSE ACCOUNT
Login to mycause
Navigate to Account Settings/Manage connections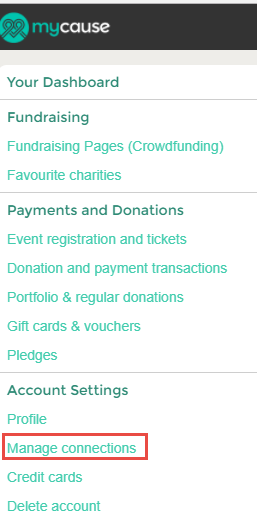 Click CONNECT to connect your fitbit. You will see a screen from fitbit. Please accept the permissions and submit.
STEP 2 - SYNC YOUR ACTIVITY TO YOUR FUNDRAISING PAGE
Navigate to Fundraising Pages (Crowdfunding)
Click Sync activities from fitness devices
Click 'add fitbit activity'
Your activities will appear in a pop-up
Select your activity to post. When you click "post to your page" your activity will add to your total activities.
You can add and delete activities later in your account
IMPORTANT
Even if you are tracking your steps, you must still log an "activity" with your fitbit in order for the data to sync.
If you don't see your data be sure to refresh your fitbit app.
For help please raise a ticket at the help centre